March 18, 2015
Selena Gomez teases 'darkness' on new album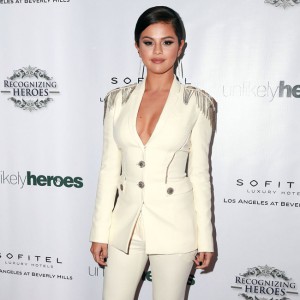 Selena Gomez says there will be "darkness" in her new music.
The 22-year-old star revealed the songs on her forthcoming second solo album will document the past two years of her life since she released 'Stars Dance', during which she has split from her long-term on/off boyfriend Justin Bieber and started dating 'Clarity' hitmaker, Zedd.
She told WWD website: "I haven't released any music in two years, so it's really going to be me kind of showing my journey in the past two years, and there's a little darkness in it."
The singer's last single was the emotional ballad 'The Heart Wants What It Wants', but more recently she has contributed vocals to her beau's new single 'I Want You To Know', sparking praise from the 25-year-old DJ.
Speaking about how the collaboration happened, he said: "I'd been working on this little idea with Ryan Tedder a couple of months ago and I met Selena randomly.
"I ran into her and she came into my studio ... I played her all the music that I had and she played me some of the stuff that she's been working on and we realised that there were songs that we could do together that'd sound really good, 'I Want You to Know' being the main focus for both of us.
"We started working on the song together and recorded her vocals and realized that it sounds perfect, so I never tried anyone else on the song and it happened to be the first single from my album."