April 01, 2015
The Libertines to announce album 'soon'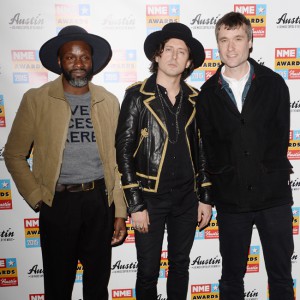 The Libertines will release details of their new album "soon".
The band - made up of Carl Barat, John Hassall, Gary Powell and Pete Doherty - have recently been working on the follow-up to their self-titled 2004 album in Thailand and took to their Facebook page yesterday (31.03.15) to reveal fans should expect news of their latest offering imminently.
A caption alongside a black and white photograph of Pete and Carl reads: "Peter and Carl are back in Thailand to continue the writing for the new album. Expect album announcement soon."
The band have been working on tracks in the Southeast Asian country as it is where Pete, 35, is in rehab for heroin addiction, although the final recordings for their third LP won't all be made in the country.
Carl recently said: "I've been in Thailand and we were all together before that. It's just good to be back in the studio making music.
"We've got a few more demos we've got to do but we'll record some of it in Thailand and some in a different mystery location.
"It's not definitely going to be recorded in Thailand, but I think Thailand's a great place, a very relaxed place. The thing was Pete was at a centre there, and we all went out to visit him and then we were a bit jealous, so we thought, 'We need to get out here and make a record.'"
And John is keen to make a more upbeat album on the Mediterranean party island Ibiza, at some point in the future.
He added: "I think we should do it in Ibiza. Maybe we'll make our next break-up record in Ibiza."