August 20, 2014
A Little Faux Pas at the 2014 World Cup Wont Hold JLo Back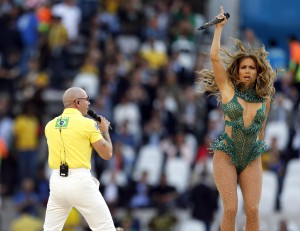 If there's one diva that can make you feel like life is a party, it's JLo. The 45-year-old singer, artist and performer brings incredible energy and enthusiasm to every concert. She generally plays for an hour and a half, keeping the audience engaged with each song. She makes sure that fans end up as tired as she when the show ends. JLo's outfits are flawless, always looking stunning when she hits the stage. Although she's not always the perfect little Ms. Diva.
At the 2014 World Cup grand opening, Jennifer Lopez performed next to Pitbull and Brazilian singer Claudia Leitte—a last minute decision from JLo, who had not agreed to certain aspects of the production. The ceremony was not as successful as expected since the audience noticed the singer's lip-synch which obviously made a splash in the blunder-hungry social media. The faux pas hit the news. Spectators were not happy.
On the bright side, the media complimented the outfits including Lopez's, who performed wearing a sexy green Brazilian outfit that showed off the diva's legendary curves.
The song "We Are One" echoed on radio stations during the entire World Cup. It seems Jennifer Lopez took the fans' comments rather well, but had no direct comment about the situation.
This was actually not the first time that JLo performed with Pitbull. The two made a few tracks together for her latest album and have performed together at a few shows.
It's incredible to think JLo already has 10 albums under her diva belt! She manages both her career and motherhood admirably.