Christina Aguilera and Alejandro Fernandez together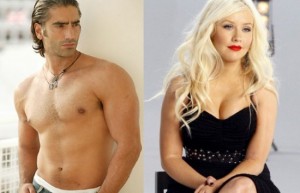 "Hoy Tengo Ganas de Ti" was covered by Mexican sensation Alejandro Fernandez with the one and only Christina Aguilera. The duo recorded this song for his 15th studio album "Confidencias." It was released May 2013 by Universal Music Latino and was the lead single from the record. This amazing hit song is also the theme for the Mexican telenovela "La Tempestad."
The album contains a deluxe edition in which Fernandez is the solo singer of this version.
Music critics wrote positive reviews about Aguilera's unique voice and delivery. This single reached the top charts in Mexico and Spain. It's music video was directed by Simon Brand and was released in July 2013.
Spanish singer and songwriter Miguel Gallardo released this song as the lead single from his debut studio album Autorretrato back in 1976. The song is about a man who is confessing his love to a woman who's leaving. In Mexico it became one of the best performing songs of the year and since then this track has been covered by several known artists like Azucar Moreno, Ricardo Montaner and now Alejandro Fernandez with american legend Christina Aguilera.
Their version peaked at number one and became a top hit on the Billboard Hot Latino Songs chart in the United States. Fernandez announced his collaboration with Aguilera in May 2013. Their rendition was produced by Phil Ramone and they where both very happy and proud of having Christina Aguilera's powerful voice in the song. Tom Jurek of AllMusic called it a "smash" and listed it as one of the three stand-out tracks of the year 2014. A writer for MuuMuse described the cover as a "duet for the ages" and complimented both for their vocal performances and called it "legendary."