Karl Lagerfeld retrospective to open in Bonn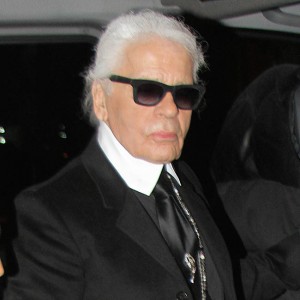 The exhibition entitled 'Karl Lagerfeld : ModeMethode' - which has been put together by his muse and consultant Lady Amanda Harlech - will open at the Bundeskunsthalle of Bonn, Germany, this weekend and celebrates decades of the fashion designer's iconic creations.
Karl, 81, co-founded Chloé in 1952 and his own eponymous label in 1984, and is the creative director of Chanel and Fendi, with designs from his work at all four houses being included in the show.
Amanda said: "It's not a retrospective, it's a future-spective. The idea was to show Karl's complete oeuvre, something that has never been done before.
"It begins at the desk. In Paris, he has about five in one loft space, and they are all like this, some with more papers and books and fabrics on them, and each desk is used for a different project, a different collection. You've even got [Lagerfeld's cat] Choupette's bowl!"
As well as his creations, the display also features a white paper ceiling and books scattered across the floor which symbolize the designer's "unrealized ideas", reports Vogue.com.
The exhibition consultant Chris Sutton, said of the paper installation: "They are Karl's unrealized ideas. We have a curtain of blank sketchbooks at the end. They are just waiting for the next collection to be designed."