August 06, 2014
Maradona gloats when former girlfriend is arrested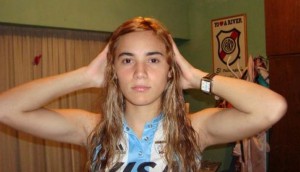 Soccer legend Diego Maradona has accused his ex-fiance, Rocio Oliva, of stealing over $400,000 worth of jewelry from his home in Dubai. Oliva was detained by police in Buenos Aires on an international arrest warrant and later released.
Upon hearing of the arrest, Maradona said, "The justice system in Dubai is very, very tough. It's true they cut your hand off." Bad news for Oliva, 24, a former member of a professional women's soccer team. She has made no comment to the media about the allegations.
Maradona insists that he gave Oliva five months to return the jewelry. He says he gave her a number of valuables during the engagement, including expensive watches and a car. Other items that were not gifts, including family gems, simply disappeared from the home they shared.
He said, "I am not asking for the watches, the car that I gave her." But he is insistent that certain jewelry, especially diamond hoops from his mother, be returned.
Maradona and Oliva met late in 2013 and became engaged in February. They were living in Dubai where he was the Minister of Sports and manager of the country's soccer club, Al Wasl. He was fired from that position in early July, a week before Oliva's arrest.
Since retiring from active play, Maradona has been a manager of the Argentine national team and a sports commentator in Venezuela.
Maradona has lived a tumultuous life, often likened to a soap opera. One of the greats in the world of soccer, he played hard and lived harder. Drug abuse shortened his career and has left him with numerous health problems.
His love life is constant fodder for the media. He has six children with his wife and numerous girlfriends.. Even as Oliva and Maradona celebrated their engagement in Rome on Valentine's Day, his ex-girlfriend (that's the former ex, before Oliva became the current ex) Veronica Ojeda announced she was carrying her second child with Maradona.