November 27, 2014
Ricky Martin Takes Twins on Tour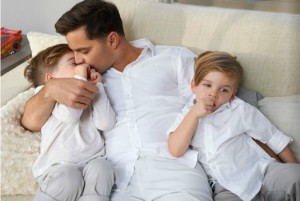 Ricky Martin says his twins love going on tour with him.
The 'Adrenalina' singer has five-year-old boys Matteo and Valentino and whenever he can he takes them on the road with him because he misses them if he's apart from them for too long.
Ricky says his sons can't always have a lot of fun backstage and are already showing signs of following in his musical footsteps.
In an interview with 'Extra', he said: "The kids are on the road with me. Man, they were born into this and they don't know anything else, they are very happy ... One of them is beat boxing like crazy, so yes, he's into music."
Next year, the 42-year-old star is considering taking a break from concerts to perform a one-man show on Broadway in New York City.
He added: "I would definitely go back to Broadway. I would love to do a one-man show. Did I just say that? I'm going to start working on it very soon!"
Speaking about her career, he added: "My endless success is great. Just to be able to walk onto stage and see 20 thousand people every night is fascinating. I'm lucky."