August 05, 2014
Telemundo Announce The Launch Of Spanish Language American Music Awards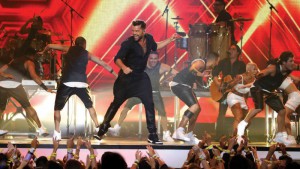 Telemundo, one of the largest Spanish language networks based in the United States, have announced an exciting new annual event that will begin in 2015. A version of the American Music Awards in the Spanish language. It is hoped that this will bring the American Music Awards excitement to the millions of Spanish speakers who live in the United States.
Telemundo signed a deal for licensing rights with Dick Clark Productions, who own the rights to the American Music Awards. Under the terms of this agreement, they can begin producing the Spanish language version of the American Music Awards beginning in the Fall of 2015.
Telemundo say it is all part of their commitment to live events, which includes various reality shows, sports events, and much more.
The details are still being worked out, but Joe Uva, who is NBC's head of Hispanic content, has said that there will be top Spanish speaking music stars from the US, the Caribbean, and other Spanish speaking countries. Stars from the Latin Notas chart will almost certainly be in attendance
There will also be the usual glitz and glamor of the red carpet event, as producing this has also been agreed by Telemundo.
Fans of the current Latin Music Awards that air on Telemundo need not fear though, as the network has signed an agreement with Billboard to extend these awards until 2020.
These Spanish Music Awards are an extension of the current music awards offering on Telemundo. They look set to become a huge even in the American music scene, and should be extremely popular when they first air in Fall 2015.